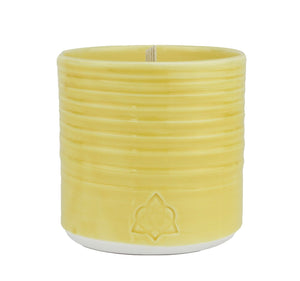 Lemon Grass Dew
Pottery colour: Sunshine Yellow
Focus.
Embracing the dew of early mornings and late evenings, it speaks to the adventurer within her soul.  Long walks on the beach and meanders through the meadows followed by fireside chats.  
Time well spent focusing on wellness and creativity with the refreshing scent of lemongrass for re-energising the as yet unexplored paths.
Scent Notes:
Eucalyptus, Lemongrass, Rose
Handcrafted Pottery Candle
This beautiful bespoke pottery is 100% handcrafted in Ireland using natural materials from local suppliers.
The porcelain clay, known as white gold, gives a rich depth of colour to the glaze which is designed to pool in, flow over and accentuate the throwing rings, which mark the path of the makers hand.
Each piece is sealed with the Mist and Moss signature, a heart within the Celtic knot.

300g
Burn time over 50 hours